'Crew News' – October 2018 Newsletter
Welcome aboard crew members! This is the official 'Crew News' which is your source for everything awesome going around HPCF. So, Jump aboard as we are about to set sail and you won't want to be left at the dock!
October 2018
In This Newsletter
Section 1 – The Compass – A quick look Back
Section 2 – From the Bow of the Ship – 

Upcoming 

Events

Section 3 – The Steerage –

 Featured athlete of the Month

Section 4 – Staff Updates – Schedule your Massage or Chiro appt!
Section 5 – Captain's Log – Ep. 26: Midline Stability with Dr. Eddie
Section 6 – From The Passenger Deck- Social Comment of the month

Section 7 – Swashbuckler – Shocking Member Transformations
Section 8 – Apparel Item of the month – 

Sweatshirts!



Section 9 – WOD Science – Ep 11. Front Shoulder Pinch Fix
Section 10 – From The Galley – In The Kitchen With Dave
Section 11 – Schedule your Goals Session
We can't believe how fast time flies! With all the good times together and awesome events, the summer just passed us right by! But, that is ok… we don't have a shortage of events coming up for the remainder of the year, so make sure you mark your calendars!
Let's recap September – Some of the crew participated in the WI. Full Tough Mudder event which was a muddy mess… but super fun! Congrats to Jodie and Alicia who did their first ever Mudder event AND finished the entire race!
Coach Robert put on a very informative Clean & Jerk seminar, which was free to all HPCF members to attend. After the event, we saw several people set a new PR! YES!
We said goodbye to longstanding member Maria Steffen, but not before she got her first ever tattoo symbolizing our anchor and barbell! Danielle & Tina went with her, not sure if it was for moral support, or if was just an excuse to get another tattoo though…?
We hosted The Shipwreck 3, which turned out to be one of the best and smoothest comps we have ever hosted! Thank you to all of the amazing volunteers who helped with this event, we could not have done it without you! Also, congrats to ALL of the HPCF members who competed, we loved cheering you all on through this event! Are you ready for the Nautical Mile 3 in the Spring?! Speaking of competitions, Michelle and Jamie have been teaming up to knock out several competitions in the area and have been taking podium spots! Great job ladies! Who's going to cheer on our teams at the CrossFit Kenosha Graveyard Games this weekend? Also, November 10th, we have several teams competing in Waukesha for the "Ladies Go RX" Comp!
And finally, HPCF celebrated another wedding! Congratulations to Karla and Johnathan Schanke, you two make a beautiful couple!
– From the Bow of the Ship –
Upcoming Events To Mark Your Calendars (Click the links below for more info)
November 18th – Friendsgiving – Racine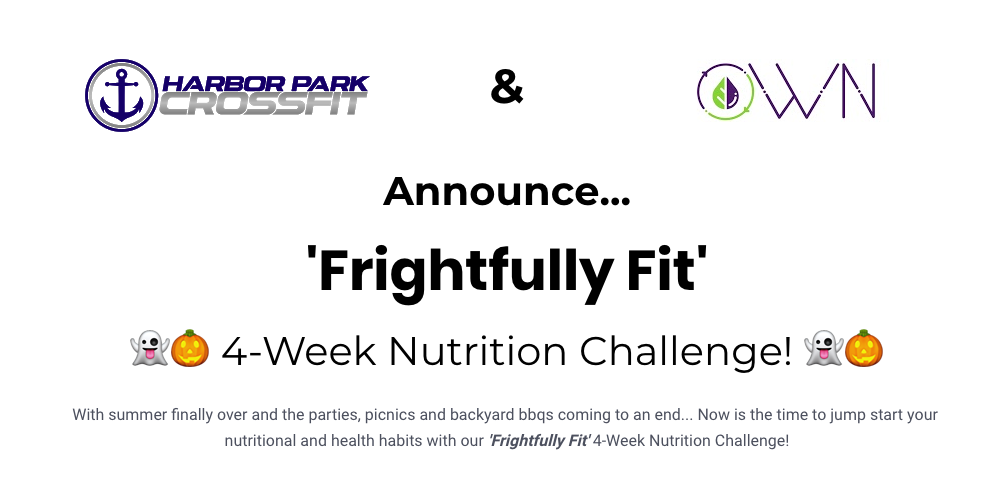 We are excited to announce our next nutrition Challenge: 'Frightfully Fit' a 4 week nutrition challenge! This challenge has been beefed up from the past and this time around, you get paired with your own nutrition Coach for the entire challenge! The Coach will be checking in on you weekly, and is also available for daily check ins as well, this way, you stay on point and helping you through any questions you may have.
The last day to sign up is October 16th, at which point Coach Corian will be hosting a seminar (you do not have to be present for this seminar participate in the challenge). The Seminar will be streamed live on Facebook and Coach Corian will discuss all of the particulars and answer questions. The Official start date of the Challenge is October 22nd.
Been thinking about kickstarting your nutrition habits? This is a perfect way to get help from our nutrition coaches; Corian, Nina, Jared and Dave – who will set you up for success even after the challenge! Designed for all levels; Macros, nutrient timing, palm sized portions, eating healthy foods.
October is breast cancer awareness month. Peak Performance has teamed up with Barbells For Boobs, which is an organization that helps women receive treatment and early detection for breast cancer. Our original team goal was to raise $2,000. We have already raised $1,900 so we changed our goal to $4,000! All you need to do is join our team and share the page! Donate if you wish! On October 20th – Racine; and November 3rd – Kenosha, we will be hosting an event for this cause. We will do a 9am WOD together for this event – "Helen meets Grace". You may bring friends as well! T-Shirts for this fundraiser coming soon!
HPCF will be hosting Carl Paoli on November 17th, as he teaches a Muscle Up Master class. Don't be fooled by the word "Master" as this is designed for ALL levels of athletes. Wether your on your way to getting your first, or maybe you already have a MU, this seminar will make you more efficient in the movement.
October's challenge is a…'Two-fer'
Part A: Who wants to win a new pair of shoes?! That's right! The referral challenge is back! September 1- October 31st, we have been tracking your friend referrals. The person with the most referrals will win a new pair of shoes (your choice!) on us! All 6-week trials, and memberships count as a referral credit. 21-day trials are not counted, but if they sign up after, they do! We currently have a 2-way tie! Who will take this challenge?!
Part B: Find the rocks! We have seen everyone going nuts over the colored rocks that have been popping up all over the City… We wanted to have some fun with it as well, so we have hidden 4 rocks at each gym. The rocks are blue, and have little anchors on them. Find a rock, bring it to a Coach and receive a ticket. 🙂 Tickets will be drawn at the end of the month for a chance to win the raffle prize!
September 2018 M.O.M: Rebecca Kishline
Let's give it up for all these ladies who participated in The Shipwreck 3!
Our September Member of the Month Spotlight goes to Rebecca Kishline!
Rebecca has been a stronghold of the HPCF Community for a long time! Everyone can admit that she always has a smile on her face, and is always cheering on her WOD partners through every WOD. Congratulations Rebecca and keep up the awesome work!
– Have You Booked Your Appt.? –
You look like you need a relaxing massage! Have you booked yours recently?
Massage can help:
Promote efficient scar formation following acute trauma
Reduce excessive adhesion and scar formation following chronic trauma
Reduce excessive fascial thickening
Reduce spasm secondary to pain
Decrease neuronal excitability
Reducing tension and adhesions in muscle allows you to improve your range of motion, perfect for the different events involved in CrossFit.
Taking care of our bodies is important and essential to longterm health. Seeing a Chiropractor on a regular basis is a great way to head off problems BEFORE they become bigger issues! Along with massage therapy, a regular Chiropractor appointment can help reduce tension and relieve impingements in the soft tissue allowing greater ROM… thus, more PRs!
Episode 26: Movement Fix – Midline Stability
In Episode 26, the team is joined by Dr. Eddie as we discuss midline stability. Particularly why this is so important for injury prevention and successful lifts. Dr. Eddie goes through what a "bracing sequence" looks like.
– From The Passenger Deck –
Social Comments of the Month
Getting your first tattoo, especially if it's in the design of the HPCF anchor deserves some recognition here!
Jerime Benzow thanks for the the positive mindset, we love when members share this! For your post, you won the raffle prize for September's challenge! It will be arriving soon!
And, of course we have to give another shoutout to the Schanke's here! I think we can now say they are 'Facebook Official'. Congratulations Karla and John!
Do you want your post be featured here? Share your story on your social media and tag us! We will try to find 1 post every month that we feel inspires & motivates others!
– September's Swashbuckler –
Check out these awesome results! Maren earns this months' Swashbuckler award! Congrats Maren! Keep up all the hard work! Your results are amazing and they keep coming!
– Apparel Item Spotlight –
Sweatshirt season is upon us! If you missed out on the Boxstar pre-order, no big deal! We have sweatshirts in all different colors as well as some sweatpants on our website! Take a look!
WOD Science with Dr. Eddie and Coach Dave Ep 11 discusses those nagging front shoulder pinches. How can you fix them, and some stability drills to get them to step coming back!
Chili Stuffed Sweet Potato
Brought to you by "In The Kitchen With Coach Dave"
How about a simple 5 ingredient Chili stuffed sweet potato! This recipe is super easy to make, perfect for food prepping and soooo delicious! Enjoy!
Remember to Schedule Your Goal Session
Remember, Goals sessions are FREE! Why do them? Sometimes we all get into a rut, or, we just don't know where to focus our energy next. Sitting down with a Coach to go over some of your goals and what is important to you, we can help guide you in the right direction. These goals sessions are always FREE, will always be FREE and we encourage you to sit down with us because we love to help guide you in this journey! 🙂